All the latest from DEOS Group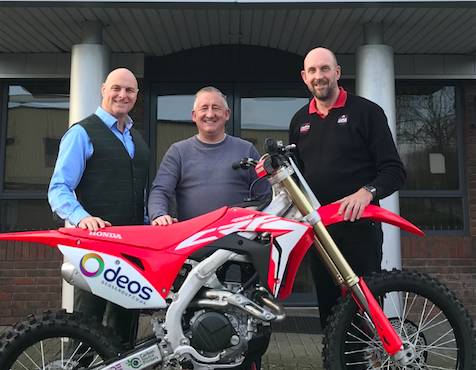 DEOS Group races to the aid of Hampshire motocross team
Romsey office technology supplier, DEOS Group, has raced to the aid of a local motocross team, as they aim for a podium finish at this year's British Championships.
DEOS Group has become dual sponsor of Cab Screens Racing. The not-for-profit team was founded six years ago and has two riders entered in the British Championship MX1 racing class – dubbed the 'premier league' of motocross.
After welcoming rising star Harri Kullas on board this season to join current team rider Dan Thornhill, who is himself a regular British top 10 rider and former youth champion, the east Hampshire-based team says it is on track for its highest ever result.
Lee Webber, Cab Screens Racing team manager, explains: "We're so grateful to Matt and the team at DEOS Group for all their support. Without their sponsorship, the team just wouldn't survive, and we would never have been able to secure a rider of Harri's calibre.
"It's great to be working with a local organisation who are so passionate about motocross and keen to see us achieve our ambitions. We look forward to a great 2019 together."
The funding provided by DEOS Group will go towards the cost of equipment, maintenance and travel, as well as the employment of the two professional riders.
Matt Smith, group managing director at DEOS Group, commented: "I've always been interested in motocross and very much enjoy watching races, but I also know it's an incredibly costly sport to participate in. It's also highly competitive and by sponsoring Cab Screens Racing, we're so pleased we're able to help give some young, talented racers a chance at success.
"It's not about the sponsorship for us, it's about giving something back and we can't wait to see the team in action."
The team will now be known as Cab Screens DEOS Group Racing and the two riders will take part in their first race of the season at the prestigious Hawkstone Park International before the British Championships commence.
DEOS Group currently employs 28 staff at its head office in Romsey. The company also has premises in London and Peterborough, with plans underway to expand further into the East Midlands.