All the latest from DEOS Group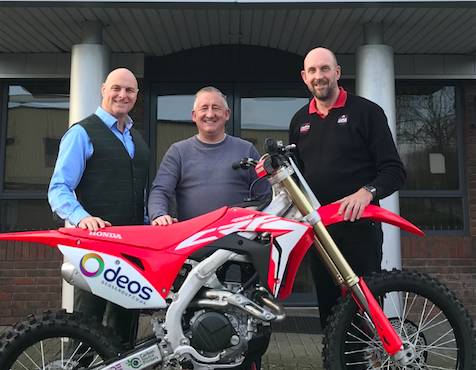 DEOS Group motocross team on track for Pro Title!
Romsey-based office technology supplier, DEOS Group, is revved up for a weekend of racing, as the motocross team it sponsors heads home for the UK's biggest motocross series – and a chance to wrap up the top title!
The not-for-profit team, Cab Screens DEOS Group Racing, was founded six years ago and has two riders entered in the British Championship MX1 racing class – dubbed the 'premier league' of motocross. 
On the weekend of August 24-25, team leader Harri Kullas from Estonia, will be aiming to wrap up the Pro Title as he heads into the penultimate round with a 42-point lead. Unfortunately, due to injury the team's second rider, Dan Thornhill, will be missing the event.
Taking place at Cusses Gorse Motocross Track near Salisbury, the team will be up against some stiff competition, with the annual race seeing male and female racing talent from across the country batting it out for pole position.
Lee Webber, Cab Screens Racing team manager, explains: "Despite some early injuries, we've made an impressive start to the series so far, and have high hopes to continue building on our success at Cusses Gorse.
"The MX National series is a fantastic all-action spectator event, and a great weekend out for the whole family. I'd urge anyone who's interested in motocross to come down and show their support for a local team, it would be great for us to wrap the title up at a local event for DEOS Group and the whole team."
Matt Smith, group managing director at DEOS Group, commented: "We're really looking forward to seeing Harri and the team in action so close to home. I've personally always loved motocross and as a company we're proud to be supporting up and coming talent in an unfunded and highly competitive sport."
DEOS Group currently employs 28 staff at its head office in Romsey. The company also has premises in London and Peterborough, with plans underway to expand further into the East Midlands.